Archive for July, 2009
July 31st, 2009
LCDs are one of the most common repairs we see in the shop, so we figured we'd help out people a little in diagnosing the issue themselves.  There is quite a bit of technical terms here, but I'll keep it as simple as possible so everyone can understand.
Now, let's start off with the basic anatomy of an LCD screen. The LCDs that we sell come in an assembly which houses the protective front pane of glass, the liquid crystal component which gives the picture on the screen, and the backlight which shines light through the liquid crystal through the glass in the front to your eyes.  There are two separate cables coming from the LCD with one controlling the backlight and one controlling the picture.
Now the main confusion comes with the type of backlight these days. All laptop screens are referred to as LCDs; yes, even one's with LEDs.  Apple's displays over the past couple of years have been marketing the brighter, more power efficient LED displays.  This is just referring to the backlight.  Again, all laptop screens are called LCDs, the main difference is if the backlight uses the older CCFL backlight using bulbs or the newer LED backlight using (you guessed it!) LEDs.
There are some other factors that play a role in what LCD you have such as screen size (measured diagonally i.e. from the top left corner down to the bottom right corner), matte or glossy finish on the glass pane, and maximum screen resolution (how many pixels are crammed into the LCD), but those only come into play for when you are ready to buy a replacement.
Now, onto diagnosing your LCD problem. There are generally four problems that occur with LCDs and there a couple of easy tests to judge what part may be causing the problem.
First is the ever popular cracked screen. This occurs when blunt force trauma causes the front glass or the liquid crystal panel to break which can cause the liquid crystal to start oozing out behind the front glass.  This usually starts a spider web looking pattern from the impact point and puddles of the liquid crystal to form blocking the picture from the screen.  This will require a new LCD and usually stops there if that is all it is doing.
The second biggest issue is the backlight. Typically, this is diagnosed when you look real close to the screen you can still make out a picture, but it is extremely dark and changing the brightness does not help.  The backlight has a cable coming from the LCD assembly into a small circuit board called an inverter board (on CCFL-backlit displays) or LED driver board (on LED-backlit displays) which controls the brightness.  From the inverter board, you have the inverter cable which goes down from the display through the hinges of the machine, and to the main logic board (or motherboard for PC guys).  This means there are four possible causes for backlight issues: the backlight in the LCD itself (which is extremely rare), the inverter board, the inverter cable (which depending on the severity of the damage can be tested by tilting the display back and forth and seeing if the problem gets better or worse since it may have gotten damaged in the hinge), and the logic board which will usually only go bad if there is a short somewhere or there is spill damage.
The third issue is just a solid white or gray screen. If the machine still boots up, but there is no picture, this means your backlight is working fine, but there is something wrong getting the picture up to the LCD.  This in most cases is going to be a damaged or disconnected display (LVDS) cable.  It may have just come loose from the back of the LCD or from the main logic board or it got damaged somewhere most likely in the hinge.
The last issue is the completely black screen with no picture, no backlight, just nothing. Now that you have a general understanding of the anatomy, you should be able to put it together that if you are not getting a picture or a backlight, those two connections only come together with the LCD itself or the main logic board.  It is difficult for both cables to get damaged unless the display is completely ripped off the base.  It is rare for the LCD to have both connections go bad, so that leaves us with the logic board which more often than not is the culprit in this situation.  The most common cause for this is a dead graphics chip.
I hope this clears things up, and hopefully you'll have a good starting point on diagnosing your own LCD problem.
July 27th, 2009
Getting your iPod or iPhone repaired just got a lot easier…and cheaper. We've expanded our Free Round Trip shipping offer on Mac repairs to include the iPod and iPhone.
There are now four shipping options for sending your iPod or iPhone in for repair.
Option 1 – (FREE) You send us your iPod or iPhone  in your box, and we'll send it back to you on us.
Option 2 – ($15) You send us your iPod or iPhone in your box, and we'll overnight it back to you for just $15.
Option 3– (FREE) We send you a box to send your iPod or iPhone to us via Ground. The box will have a prepaid label to send your unit back to us via Ground service, and then we'll ship it back out once the repair is completed via Ground service…all for free.
Option 4 – ($25) We send you a box to send your iPod or iPhone to us via Overnight service. The box will have a prepaid label to send your unit back to us via Overnight, and then we'll ship it back out via Overnight once the repair is completed. So, that's 3-way overnight service for just $25.
You'll see the new options at the schedule a repair page. Under shipping options, there is a new drop box to select Laptop, iPod, or iPhone. Simply select your model type, and then choose the shipping option you prefer.
Need a Quote for Repair?
Click Here to Request a Quote for iPhone or iPod Repair
Ready to schedule a Repair?
Click Here to Schedule a Repair
You can reach our repair department to discuss any of your repair options at 1-866-726-3342 x703. Our techs are available Mon. – Fri. 8:00 AM – 5:00PM CST.
July 24th, 2009
One new product announcement before the weekend.
Today we began carrying screen cover replacements for the Macbook Pro 15 Unibody models. These screen covers are not original parts, but replacement parts. Apple does not sell the glass replacements. To replace the glass from Apple requires replacing the entire clamshell assembly. The part we are offering is a plastic replacement that once installed looks just like the original. As the cover is not an original replacement part, the words Macbook Pro do not appear on the bottom of the cover.The price on the cover is just $39.95 (check product page for current pricing) which is a fraction of the repair cost for a complete clamshell assembly.
The part is available from the link below:
Macbook Pro Unibody Glass Screen Cover Replacement
July 23rd, 2009
So a customer sends in his iPhone 3G to have the LCD replaced…but there was something peculiar about this particular iPhone.  By peculiar I mean that none of us here had any idea as to exactly what it was, but it sure wasn't an iPhone.
The phone came in an iPhone 3G box…sortof. The box looked like an original except it wasn't glossy and some of the icons on the phone itself were different.
Even more telling was that on the back case, instead of iPhone, was simply "Phone".  It was also designed by Tvphone in America.
There were other major differences as well such as a smaller LCD and a different dock connector.If you had ever seen a real iPhone before, you would have realized that this was a fake.
So of course, the tech who was assigned the repair had to call the customer and tell him, "No Sir, That's not an iPhone."  The customer was left shocked and furious by the news….not at us, but at the guy who he purchased the phone from on eBay for $150.
You can see all of the side by side comparisons in the video gallery below.
July 22nd, 2009
We added a couple of new iPhone 1G parts to the online store today.
1.) iPhone 8GB Logic Board (1st Generation) – $149.95
This is the logic board assembly for the 1st Generation iPhone. The battery is also included to make installation a cinch.
2.) iPhone Camera Replacement (1st Generation) -$29.95
This is a replacement camera for the 1st Gen iPhone.
July 21st, 2009
Since the beginning, we've offered replacement keys for just about every model Apple Laptop. There's just no need to replace an entire keyboard if you're only missing a keycap or two.
Today we introduced a new feature that makes ordering keys even easier…a virtual keyboard. On any replacement key page, instead of typing in the keys you need, simply click on the key you'd like to order and it will automatically be added to the key selection box and the correct quantity will be selected for you.
You can see how this works in the image below:
If you'd like to check out the new virtual keyboard or order some replacement keys, you can find the keys at the links below:
Powerbook G3 Keys (Pismo / Lombard)
Powerbook G3 Keys (Wallstreet)
July 15th, 2009
Every once in a while, we get a package over here that when opened leaves us either scratching our heads or laughing hysterically.
A couple of  years back we received a Fedex package that had $800 in cash wrapped around a bunch of newspapers. (Yes, we called FEDEX immediately, and yes all the cash was returned and promptly picked up.)
A few months back we got a customer who was returning a product for exchange. When we opened his return, we found about 50 pairs of plastic sunglasses…we looked all through the box, but definitely no computer parts in there.
We've received countless repairs in diaper boxes, rotisserie chicken cooker boxes, clock boxes, etc… We've even seen packaging for laptops ranging from toilet paper to bound books.
All of this brings me to today. Today we received a return for exchange, and once the box was opened, there was an offering to the computer gods.
On top of the return, on a recycled grocery bag were the following offerings:
Maglight, Pedometer, a small pointed stone, and a coiled branch
The maglight I can understand…what nerd doesn't want a free maglight. The branch I suppose could be uncoiled and be used as a pretend light saber, so that's understandable to a lesser degree.  The stone could be used by our Customer Support staff as a weapon since I refuse to get them tasers. The pedometer though baffles me. Everyone knows nerds don't walk.
July 13th, 2009
Today we added two new products to the online store; battery replacements for the 13 Inch and 15 Inch Macbook Unibody Models.
1.) 13-Inch Macbook Battery for Unibody Models – LI-Ion 10.8V 4800MAH replacement. The price is $94.95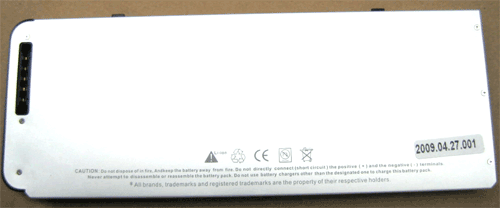 2.) 15 Inch Macbook Battery for Unibody Models – LI-Ion 10.8V 5200MAH replacement. The price is $94.95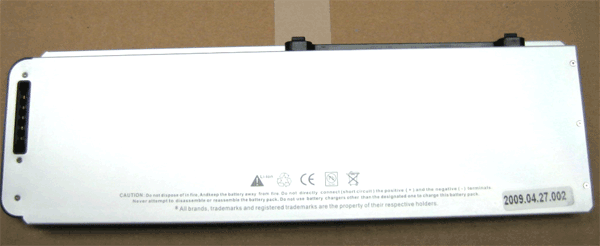 July 10th, 2009
We added a few new products to the online store today. Here's a rundown:
1.) iPhone 3G Docking Power Case – Leather Flip Case with Battery
This is a pretty cool product. This is an iPhone 3G accessory that pulls double duty. It is a case that is also an external battery. This case provides an additional 11 hours of Talk Time, 10h of video playback, 35 hours of audio playback, 350 hours of Standby time, or 9 hours of Internet Use.
The case is only 100 grams, so it's pretty light in comparison to a lot of the external battery packs out there.
The price is $39.95.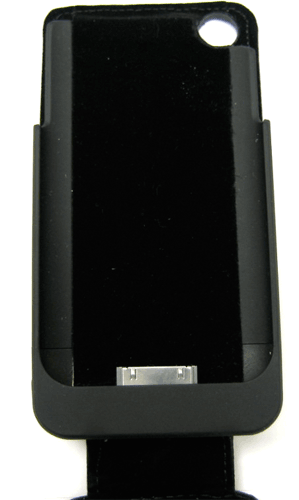 2.) iPod Touch 2nd Generation Touch Panel Assembly
This is the glass and digitizer for the iPod Touch 2nd Generation units. Generally this piece gets broken, and not the LCD itself.
The price is $39.95.
3.) iPod Classic Battery Replacements
We also added two flavors of iPod Classic Batteries to the lineup.
650 MAH For iPod Classic 80GB and 120GB Units
850 MAH for iPod Classic 160GB Units
The price on each of these is $9.95.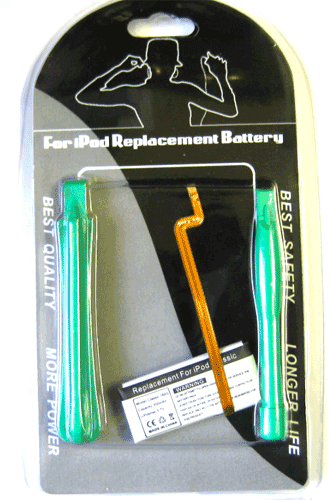 4.) iPod Nano 3rd Generation Battery Replacement
These are 400MAH iPod Nano 3rd Generation battery replacements. Price – $9.95.
5.) MAXPower 802.11g/b Wireless USB 2.0 Stick Adapter
This one isn't iPhone or iPod related…it's a USB Wireless stick adapter for Powerbooks, iBooks, and Macbook and Macbook Pro machines. The price is $24.95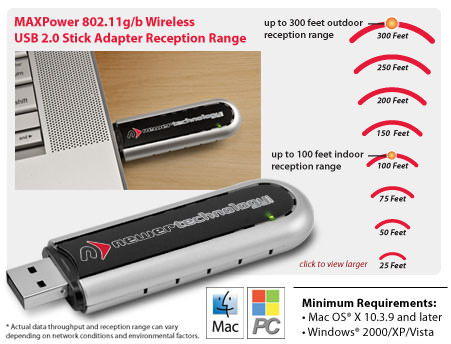 That's it for the new product announcements. Have a great weekend….
July 9th, 2009
Throughout the years, we've seen some pretty strange things here. There was the guy who had 3 Clamshell iBooks that somehow became infested with roaches, so he placed all the units in the freezer to kill the roaches…then sent the units to us. There was the guy who loaned his laptop to a friend, and his friend accidentally spilled "water" in the unit…that was fine until we discovered it was urine…not water.
We've seen units run over by cars and dropped from buildings…iPods that have been washed and dropped in the toilet…Yes, we've seen just about everything.
So, I've decided that rather than keep these interesting repair stories to ourselves, we'd share them in our blog and call the segment, You Did What!? So that brings me to this week's – You Did What!?  At the beginning of this week, we received a Macbook that had been burned by a candle. This Macbook hadn't just been singed, it was burned all the way through the plastic and LCD. (Picture below.) That in and of itself isn't too horribly bizarre for us. More bizarre is that the very next day, we received another Macbook burned in exactly the same way.
Total Repair Cost:
LCD – $149.95
Back Case – $49.95
Labor – $95.00
Total – $294.90
To Visit our Mac Repair center, click here.