Today we added replacement parts for the HTC EVO 4G. You can find our HTC EVO 4G parts category at the link below.
Today we lifted the curtain on a project that has been in the works for over a year now: My Devices. My Devices in short is a place to keep track of and maintain all of your Apple devices throughout their lifecycle. Just type in your model number or serial number on the My Devices page, and your device will be added to your list of gadgets. From there you can access a host of services for your device including complete technical specs. An explanation of all the services can be found in the video below. (They are also described below the video.)
Report Stolen With this service, you can report your device as stolen. Once a report has been filed, we will flag that serial number in our system and contact you with any information that may turn up. For those who elect to have their device information posted on our blog, we will post updates on our blog with the information on the stolen device.

June 15th, 2011
Over the last several weeks we've been hard at work adding hundreds of Blackberry parts for service and replacement to the site.
We now offer a full line of parts for the following Blackberry models, and we're adding more models weekly. We're carrying every single service part for these models from the LCD panels to the logic boards, case parts, etc…
Below are the links to all of the Blackberry service part categories. You can also find the main category page in the Parts By Category navigation link or by clicking here.
If you find we don't have the parts for your model Blackberry, then email us at support@powerbookmedic.com , and we'll let you know what our timeframe is for adding your particular model.
Blackerry 9700 (Bold)
Blackerry 9530 (Storm)
Blackerry 9500 (Storm)
Blackerry 9000 (Bold)
Blackberry 9630 (Tour)
Blackberry 8530 (Curve)
Blackberry 8520 (Curve)
Blackberry 8330 (Curve)
Blackberry 8220 (Pearl Flip)
Blackberry 8130 (Pearl)
Blackberry 8100 (Pearl)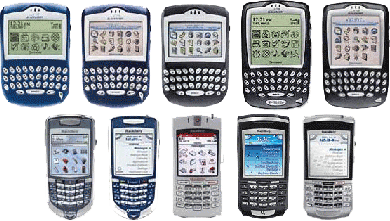 June 9th, 2011

Here at PowerbookMedic.com, we've been making strides towards going green for several years now. To recycle an aluminum can and say you're "Going Green" doesn't cut it for us however. As a company, we feel it is our responsibility to not only properly dispose of our company created waste but help others dispose of their electronic waste as well.
Our primary objective is to reduce the amount of electronic waste going into landfills. Our secondary objective is to minimize the carbon footprint of our company as much as possible by recycling as much as we can.
We've found there are several ways to reduce the amount of electronic waste going into landfills.
1.) Increase the Gadget's life cycle – By increasing the life cycle of a gadget, consumption (and subsequently waste), is reduced by delaying an individual's refresh rate of technology. Let's say for example that you have a 1st generation phone that breaks and you have it repaired rather than buying a 2nd generation phone. Therefore, you postpone your purchase of a new phone to a 3rd generation. Eventually, rather than having three generations of phones entering a landfill, only a 1st generation and a 3rd generation phone have the possiblity to enter a landfill as a result of your decision to repair. This effectively reduces your e-waste by 33.33%.
By offering customers repair guides and parts for self repair as well as a send-in repair service, we have enabled individuals to increase the gadget life cycle.
2.) Initiating Electronics Recycling programs – We've partnered with ISO 9001 and ISO 14001 companies to properly dispose of and recycle electronic waste including LCD screens, logic boards, batteries, crts, etc… We've also setup a system where customers can send us their electronic waste for proper disposal. Customers can either bring their old electronics in to our storefront or mail them to:
PowerbookMedic.com
Attn: Recycling
500 Wynn Dr. STE 510
Huntsville, AL 35816
3.) Sell Your Gadget Program – We've started an electronics buyback service via our Sell Your Gadget program. This program which was started in March of 2011 has already purchased over $50,000 worth of gadgets from customers and saved over 200 gadgets from ultimately ending up in landfills. We believe this program will do nothing but grow from here on out. The more it grows, the more gadgets we can save from ultimately ending up in a landfill.
4.) Repurposing – We've had several projects aimed at repurposing electronic parts such as our current line of Mac Jewelry. If you've got a repurposing idea, we'd love to hear it.
5.) Company Recycling Program – We've also initiated a company-wide recycling program to recycle non-electronic items such as corrugated boxes, bubblewrap, paper, aluminum and plastic.
There's still more to do, but we feel we're on the right track. If you've got ideas on how we could go greener, we'd love to hear your thoughts.
June 8th, 2011
Our Sell Your Gadget program has been a huge success with over $50,000 worth of gadgets being purchased in just the first few short months.
One thing we've noticed is that customers want to get rid of their old desktop units, but they don't want to pay to ship them or package them. To address this, from now on, we'll be covering the packing and shipping of desktop units to us just like we do with laptops, iPods, iPhones, etc…
Once you schedule a desktop sale on our website, there will be a new option for The UPS Store® Drop Off service. Thanks to our partnership with The UPS Store®, all you have to do is drop off your unit with the work order you get when you schedule the repair, and they'll do the rest.
So go ahead and sell your Mac Desktop. Get some green in your pocket and be green by keeping it out of a landfill.
Click Here to go to our Sell Your Gadget Program
June 7th, 2011

This week we've added two new features to our product pages; Price Matching and Product Reviews.
We're confident that the quality of our products, price, warranty, and customer service are unrivaled in the industry. We realize however that sometimes other vendors can have a sale or beat us on a price. We value our customers and don't want to lose them over a small price difference.
If you're able to find a better price for a product in the same condition, then we'll do our best to not only match that price, but beat it. We can't guarantee we'll be able to match in all circumstances, but we'll do our best to ensure you're a satisfied customer in the end.
We've also added the option for customers to leave product reviews on product pages. This feature allows customers to help other customers by sharing their experiences, but also helps us as a company get invaluable feedback on our products from our customers.
Both features can be seen on any product page in the product naviagation tabs.

June 2nd, 2011
In the previous two entries, we have covered the locations of a number of the various screws that are in the iPhone 4. While the repairs on this phone are not impossible to complete, they do require a certain level of skill to complete them. As time progresses, we may go into more detail on completing other repairs on this phone, however, the Take Apart video found here keeps the repairs we cover to a relatively simple level. As with all repairs, we would encourage you to only attempt work you are comfortable doing. With electronics, there are frequently small fragile parts that are easily torn or damaged. The wrong move could turn your iPhone 4 into a $400 paperweight. If you are in need of repair, please feel free to schedule a repair on our website.
The last post we made covered the screws on the bottom of the iPhone 4, up to the Dock Connector cable. In this post we will cover the remaining few screws which keep the Logic Board in place. Once the Logic Board is removed, the screws that keep the display securely in place will be exposed, and accessible to you to complete a number of repairs on this device.
Just above the Dock Connector Cable there will be a small white dot, which you can remove with a flat pry tool. In the image to the left, the dot has been placed above the screw on the right side of the Logic Board. The small dot is a moisture sensor, and will turn red when exposed to moisture. This is one of the ways Apple can determine if your warranty is void due to misuse.
In the image to the right is the Upper EMI Shield, and the screws which hold it in place. The screw that is in the left side of the EMI shield also anchors the Logic Board in place. Underneath the EMI Shield is a series of three small cables, which coordinate with the headphone jack, the front facing camera, and the induction flex cable.
There are two cables on the left hand side, which are connected to the LCD and Digitizer, which will actually slide through the midboard when removing the display assembly. Beneath those two cables, is an arm that is connected to the rear facing camera, which is also attached by a flat cable below it.  Just above the right most cable is a screw with a socket in it. A flathead screwdriver should remove this for you easily.
The screw in this image is the socketed screw in which one of the upper EMI shield screws will go. This screw needs to be removed in order for the Logic Board to be removed.
The pictures below show the six phillips head screws, with the washers which assist in holding the display assembly in place. When removing the display assembly, it is not necessary to remove these screws, but rather only to loosen them. If you do happen to remove them, you would want to be careful to make certain that you get the washers placed back in the socket with the screws.
Once you have removed the speaker assembly, and loosened the screws on the sides of the phone, there will be a series of four additional small phillips head screws that need to be removed. Once those are removed, you will have access to the Display Assembly, which will still have some adhesive holding it in place. The pictures below will detail the location of the last four screws.
June 2nd, 2011
In our previous post, we talked about the number of screws and various locations of screws in the upper EMI shield on the iPhone 4. This is probably the most popular of the iPhones that Apple has released to date. A large part of this is likely due to Verizon finally adding the iPhone 4 to it's arsenal of mobile devices. As we mentioned in the previous article, there are a variety of repairs that a user can complete on the iPhone, of which the most popular would likely be the Glass and LCD replacement. This is likely due to the solid glass front and back design. When you dig into the iPhone 4, one thing that stands out is how tiny everything is inside, and how well designed the phone is. Below, we have placed some images depicting screw locations, and comparative images of the various screws in the iPhone 4, which you can use along side the Take Apart guides to complete a variety of repairs on the iPhone 4.
This is an image of the upper EMI shield and the screws which accompany this particular part. You can see the specific screw locations by reading the previous post on this topic.
This is the dock connector cable and accompanying EMI shield which is held in place by two small screws. Notice the orientation of the EMI shield, and how the shield has a small notch which is seated on the left hand side.
This is the EMI shield and the screws removed, oriented in the appropriate manner. When disassembling the iPhone 4, you should be very careful to keep track of the various screws, and their location. You can use simple tricks such as making a loop out of masking tape, so that the sticky side is facing out. Then you can adhere the tape to your work area, and place the screws on the tape so that they do not roll away.
Once you have removed the Dock Connector Cable EMI Shield, you can peel the cable back, and expose the screws that are numbered here. 1 holds the lower portion of the Logic Board. 2 holds the battery connector, and a small EMI shield, and 3 holds the speaker assembly in place.
As you can see, these are the three screws, labeled to coordinate with the image above.
We will complete the listing of the screw locations in the next post, however, as always, if the repairs look to be more than you feel comfortable completing, you can always send a repair into us by scheduling one on our site. If you would like more information about our repair services, you can follow this link.
June 2nd, 2011
For those of us who flocked to Apple's flag-ship phone this past summer, and have had reason to open it up, or for those of us who FINALLY saw our carrier pick up one of the most versatile phones on the market, we have decided to make a simple guide to show you the correct placement for the myriad of screws in this tiny miracle of technology. There are a variety of repairs that can be completed on these phones, and while most of the repairs simply require a Phillips #00 screwdriver, on some newer models you will need a specialized screwdriver, which you can find here:
iPhone 4 Pentalobe Screwdriver
The first area we will cover is the upper EMI shield, where there are 7 screws of varying lengths and sizes. The pictures below will assist in determining which screws go where in reassembly.
As you can see in the pictures, these screws are all different sizes and can quite easily get confused. When approaching repairs in the iPhone 4, you can end up with far more issues than when you initially started, if you are not careful. The upper EMI shield protects the camera, and various other elements from kicking out interference causing issues with the reception of the phone.
This shield would be removed in order to complete repairs such as replacing the front display, the headphone board, and the induction flex cable. These are all complex repairs, and should not be taken lightly. If you decide to take them on, you can use the instructional guides on our website to complete the repair, however, if you feel this is out of the realm of your comfort zone, we also offer send in repair services.  Below are links to various parts and tools that you can get from our site to complete the repair, along with a link to our take apart guide.
Tools:
Parts:
iPhone 4 Digitizer and LCD Panel
Take Apart Guide
Of course, if you feel any of these repairs are beyond your capabilities, you can always send your phone in here: http://www.powerbookmedic.com/xcart1/schedule.php