Archive for 2010
May 28th, 2010
When we initially offered iPad Repairs, we weren't expecting a huge demand. Yes, iPads are mobile, but who is really going to drop and break their iPad? … That was the thinking anyways.
We were wrong.
On the weekend of the iPad W-Fi release, we had three reports of damaged iPads. Every day since then, we've had at least one damaged iPad in the shop. Today we got five new ones to add onto the list.
Demand has increased so much in fact that we've added a new full-time repair tech to our team.
So how are these iPads Breaking?
Almost all of the repairs we've seen to date are a result of people who have dropped their iPads and broken the glass. The stories mostly have a similar story of "It just slipped." We've had several stories where friends were passing the iPad around and dropped it.
Our typical iPad repair cost is $129.95. ($99.95 for the iPad Glass + $30 labor)
The lesson here is simple. Get a nice case with some grip protection….otherwise you might end up being our patient.


May 21st, 2010

Today we released our iPad 3G Repair take apart video. This video will show you how to open up and take apart the iPad 3G to replace the various internal iPad parts. The video is broken up into the following sections:
1.) Opening the iPad 3G
2.) iPad 3G LCD Display
3.) Removal of the iPad 3G IO Cable
4.) iPad 3G Logic Board and MicroSIM Removal
5.) Speaker Assembly
The iPad 3G Repair video is available at the link below. The take apart is also embedded below in this blog post.
iPad Wi-Fi + 3G (A1337) Repair Guide
This text will be replaced
May 19th, 2010
A couple of blog posts ago, we discussed the difficulty of opening up the iPad without breaking the iPad clips holding the display to the midboard. In short, every iPad we had opened to that point required us to replace at least a few of the iPad clips as they easily broke when the iPad was opened up.
We've since come up with a solution to the problem with our iPad Opening Tool. The tool is basically a metal spudger with a machine filed end that gives it just the right thickness and strength to easily separate the the iPad display from the back case.
Since the implementation of this new tool, our techs have yet to break a single clip on an iPad repair. The credit for that goes both to the tool and experience as we've been seeing a pretty steady stream of broken iPads coming to our facility.
If you're looking to do a repair yourself, the tool is available for $4.95 from our online store at the link below:
iPad Opening Tool for iPad Repair
Here are a few pictures of the tool being used in a repair.

May 18th, 2010
Today we released two new iPod Repair videos. The videos are for the iPod Touch 3rd Generation and the iPod 2nd Generation.
These video guides show you how to completely disassemble the iPod Touch and the 2nd Generation iPod.
You can view the videos directly at the links below.
iPod Touch 3rd Gen (A1318)
iPod 2nd Generation
The videos are also embedded below:
This text will be replaced
This text will be replaced
May 14th, 2010
It seems like every few months a new iPod comes out leaving the previous generation abandoned in a drawer somewhere. I'd venture to guess that most of you have at least one previous generation iPod sitting unused in some corner of your house or car. You could let the iPod rot a little longer in your drawer, or you could sell it on eBay, or you could do something useful with it.
While the old iPod may seem like a useless dinosaur to you, the hard drive inside the iPod could still be used as an external mini USB hard drive. Pop the hard drive out and into a micro enclosure, and you've instantly got an external hard drive. Even better is that the drive will be loaded with all your music!
We offer two types of enclosures to mount an iPod hard drive.
1.) Toshiba 1.8″ Drive Enclosure – $39.95 For the 1st – 4th Generation iPod.
2.) iPod Video Hard Drive Enclosure – $39.95 – For 5th Gen iPod Video
May 13th, 2010
Have you ever plugged your iPad into your USB port only to find out that it says it's "Not Charging"? The problem is due to USB ports not liking the heavy power consumption required by the iPad. According to Apple, the iPad requires a 10W USB port to effectively charge the iPad.
QuickerTek has come up with a solution however…the iPad Charge Monitor.
According to the product info from QuickerTek, "The unit will turn on the USB port so that it will charge and the 4 LED's on the unit shows that the iPad is charging and shows the charging current level or how fast it is charging. The more lights are on the more power being put out by the usb and thusly the faster your iPad is charging."
The device works for all Apple iPad, iPhone, iTouch & all 30 pin connector iPods.
Pick up yours today for $29.95. iPad Charge Monitor
May 11th, 2010
Today we began offering iPad Silicon Case Protectors. The cases keep your Apple iPad safe and protected and provides a good grip for the iPad. The silicon cases are constructed from smooth, treated silicone that resists dirt and stains. The case gives easy access to all buttons and the dock connector so you don't have to remove the skin.
The best part about the case is the price. The iPad silicon case skins are $7.95.
The products are available at the links below:
iPad Silicon Case Protector – Brown
iPad Silicon Case Protector – Black
iPad Silicon Case Protector – Red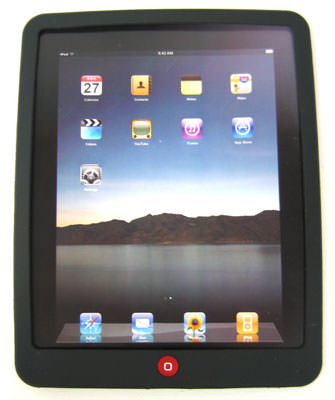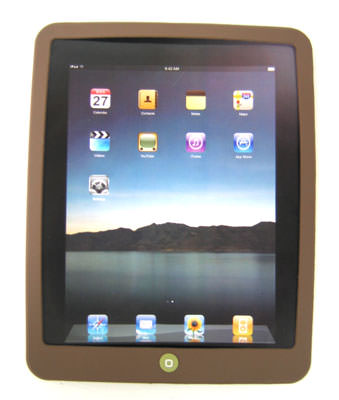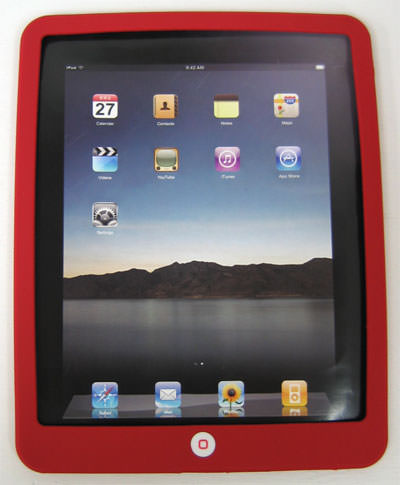 May 10th, 2010
We've performed a fair amount of iPad Repair to date, and that's allowed us to improve our actual repair procedures. One thing we've come to find is that it is extremely difficult to remove the iPad Glass from the iPad Midboard. It's possible, but it adds about an hour of labor to a trained tech's repair time.
Because of this, we're now including a free iPad Midboard with every iPad Glass Digitizer purchase. The best part is that we're not upping the price. The iPad Glass with Midboard will remain at $99.95. The product is available on our website for those wanting to do a self repair.
If you prefer to send in your iPad for repair, the cost for an iPad Glass repair is $30 labor + $99.95 glass digitizer part cost for a total of $129.95. Shipping is free with all repairs, including iPads, and we'll even ship you a box. For more info, visit our Mac Service center or call us toll free at 1-866-726-3342.
May 10th, 2010
The iPad is held in place to the back case by a set of 14 iPad clips. The problem with these clips is that it's almost impossible to open the iPad and not break these clips.
Since the iPad release, we've seen one Broken iPad after another and have seen iPads in the shop for repair almost daily. Our techs are good, but the fewest clips one of them has managed to break during a repair so far is three.
The good news is that we offer a Replacement iPad Clips set for $9.95. The set includes fourteen clips.
We are also offering an individual iPad clip for $.95.
Eventually we expect a tool will be available to make it so these don't get broken during an iPad Repair, but until then you'll just have to replace them as you repair them.
May 6th, 2010
Frozen iPad? Does your iPad not turn on or not sync to your computer? There are a few ways to perform a soft reset on the iPad to get it up and running again.
How To Reset an iPad
1.) Method 1 – Hold the wake button at the top of the iPad until the slide to power off screen appears. Slide your finger to power off the iPad. Then, hold the wake switch until the iPad turns back on and the Apple logo appears on the screen.
2.) Method 2 – Hold the Menu and Wake buttons at the same time until the iPad restarts and the Apple logo appears.
3.) Method 3 – If your iPad boots, go into Settings and then General –> Reset. There you will find several settings to reset the iPad.
If your iPad still will not sync to a computer, try these additional steps.
1.) Try another USB port on your computer.
2.) Restart your computer.
3.) If you don't already have it, download the latest version of iTunes.
If you continue to have issues with your iPad, we offer free diagnosis for iPads with our Send-In Mac Service. iPad repair is $30 labor + part cost. We offer free shipping and will even ship you a box.
We also have iPad parts and a free iPad Repair Guide if you're looking to perform self repair on your iPad.
iPad Reset Video
The video below shows you how to reset your iPad. This video is also available at our Mac repair guide site.
This text will be replaced