Archive for March, 2010
March 31st, 2010
Today we're opening up our repair guide development to the public. As of today, anyone can upload a repair video and best yet, we'll pay you for it. For a video 5-10 Minutes in length, we'll give you $25. For a video 10 minutes or greater, we'll give you $50.

What types of videos are we looking for?
We are open to any tech device we currently don't have on the site.
The newer the device the better.
Does it have to be an Apple Product?
No. We're opening this up to all devices, all brands.
How does it work?
Click Here to go to our Repair Guide Center and then register for an account. Once you setup your account you'll be able to start uploading videos. After you've uploaded your video, our team will review it for quality. The review will be over within 24 hours in most cases. The video will then be posted live on our site and you'll be sent your cash reward via Paypal.
Why are we opening up development?
When individuals collaborate on a project, the possibilities are endless. We want to do what we've done from the beginning, and that is to show people how to fix things. By opening this up we hope to accomplish that goal on a larger scale.
March 29th, 2010
Congratulations facebook fan Don M Oehlert! You won the iPad in our iPad Giveaway! The iPad Giveaway is officially over!
In case you missed it, PowerbookMedic was the first company to do an iPad Teardown.
The video is below:
We've also opened the first iPad Parts Store. We've got all the replacement parts from the iPad LCD Display to the Glass Digitizer to the Logic Board.
====== ORIGINAL GIVEAWAY POST BELOW =======
We've given away lots of goodies in the past from Snow Leopard to iPods to Macbooks. This time we're giving away an iPad.
Enter to win your iPad, and then come back on Saturday to watch us take one apart! Click here for the info on our iPad Take Apart event.
Specs on the iPad:
* 16GB
* Wi-FI Model
Retail value – $499.00
How To Enter the Giveaway:
There are four ways to enter this week's giveaway. You can enter multiple ways, and each individual can end up with up to 10 entries.
1.) Join us on Twitter (Click Here to visit our Twitter page) and Retweet the following message "RT @powerbookmedic is giving away an iPad : http://tinyurl.com/yzp2qfg"
Retweet Autofill for iPad Giveaway
The retweet counts as 2 Entries. (You must still be a follower when the contest ends to be eligible.)
2.) RSVP to our iPad Take Apart Webcast – RSVP to our live  iPad Take Apart webcast by clicking here . You have to register with Ustream to RSVP. (The iPad Take Apart Event is currently scheduled for Saturday April 3rd and is set to start between 9:30 – 10:00 AM CST.)
This counts as 5 Entries.
3.) Join us on Facebook and comment or interact with our wall. (Click Here to visit our Facebook Page.)
This counts as 5 entries. (You must still be a fan at the end of the contest to be eligible.)
4.) Write a blog post about us or the giveaway with a link back to our site and email the link for the post to twitter@powerbookmedic.com.
One blog post will count as 5 entries. Only one blog post per individual.
The total number of entries possible per individual is 10. The contest is over on Monday April 5th at 12:00 CST.
Rules and Regulations
No purchase necessary

Must be 18 years or older to enter to be eligible to win the prize


Void where prohibited by law

PowerbookMedic reserves the right to refuse any submission for any reason

Odds of winning depend upon the number of eligible entries received

Winner will be listed on the website, twitter, and notified by email

Prizes are non-transferable and not redeemable for cash

Entries will be accepted through Monday April 5th at 12:00 CST.

Employees of PowerbookMedic, affiliates, and their families are not eligible to enter


All federal, state and local laws and regulations apply

The winner has 7 days from notification to claim their prize. Otherwise the prize is forfeited.

Participating entrants agree that PowerbookMedic, its subsidiaries, participating sponsors, their affiliates, officers, directors, agents and their employees shall not be responsible for lost, misdirected, illegible or late entries

T

h

e

iPad

w

i

l

l

s

h

i

p

v

i

a

U

P

S

G

r

o

und for free unless the winner is located internationally. If the winner is located internationally, they will be responsible for the shipping charges. The iPad should ship within 24 hours of the winner's confirmation unless circumstances outside of our control.

PowerbookMedic is not responsible for any International shipping, duties, or taxes should the winner be located internationally.

By enrolling, contestants accept these rules and agree to be bound by the results of the prize drawings. All decisions made by PowerbookMedic are final
March 29th, 2010
On April 3rd, PowerbookMedic became the 1st company to take apart the Apple iPad. The high def video is embeded below. The iPad take apart video is also available on our Mac Repair Guide site.
For high def photos of the take apart, you can click this link visit our iPad Teardown page.
== Original Post ==
While most people are waiting to play with the iPad, we're waiting to take it apart. We've been taking Apple gadgets apart and posting guides since our beginnings over 8 years ago. (Click here to go to our Mac Repair Guides.)
This time however, we're going to do something a little special. We're going to take it apart in a live webcast. You'll get to see what we see. Will there be breakage…it's very possible. Will there be problems and surprises….you bet. Will there be excitement….no doubt.
You can tune in to the live webcast by linking to this blog post. You can also RSVP to the event by clicking here . You have to register with Ustream though to RSVP.
The webcast will also be available with chat at http://www.powerbookmedic.com/ipad
The event should start around 9:30 – 10:00 AM CST on April 3rd. It all depends on exactly when we get our iPads. (Note that there are rumors iPads are shipping early. If we receive our iPad early, we'll be pushing up the date of the webcast. Stay tuned to our twitter feed to stay up to date!)
March 23rd, 2010
Today we've added three new products to the store. The new products are the back cases for the Macbook Unibody 13″, 15″, and 17″. This is the back piece of the display that has the Apple logo. This is also the piece with the black rubber surround for the Macbook Glass panel and  LCD.
The three products are available from their respective links below:
13″ Macbook Unibody Display Back Case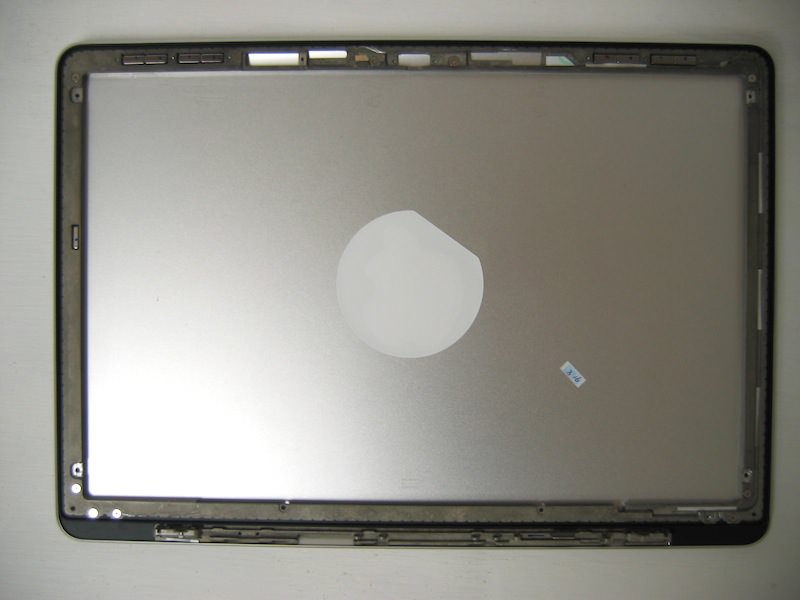 15″ Macbook Unibody Display Back Case
17″ Macbook Unibody Display Back Case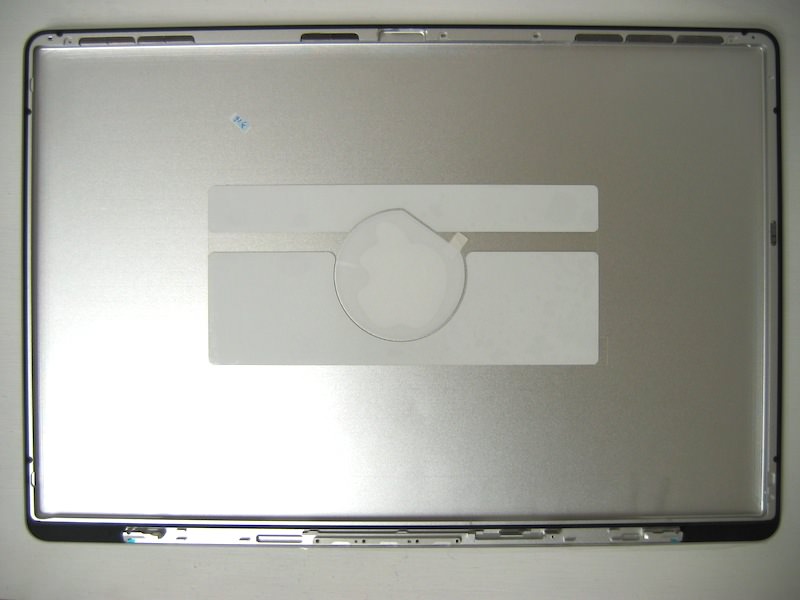 March 12th, 2010

Today we got a first glimpse of some of the iPad digitizers. While we can't release the photos, we can tell you about them.
1.) No Camera hole for an iSight – This pretty much squashes the theory of a late add iPad camera, and supports the notion that the camera was pulled last minute based on previous midframe photos.
2.) Oversized iPhone Digitizer – The digitizer is basically identical to the iPhone / iPod Touch models except that it is much larger. The digitizer appears to have a strip of adhesive that will adhere it in a similar fashion as the iPod Touch and iPhone as well. We're assuming disassembly will require a heat gun and a suction cup.
3.) The only other real note about the digitizer is that the connector to the logic board is located in the top left hand corner. On the iPod Touch and iPhone the digitizer cable runs out of the bottom of the assembly.
We'll have the skinny on all the internals when we take the iPad apart on April 3rd. Until then you can watch our library of take apart videos at the link below:
March 10th, 2010
We've got one new take apart video for you today for the 1st Gen iPod Touch.
The video is also live on our Mac Repair Guide site.
This video guide shows you how to completely disassemble the 1st generation iPod Touch to replace the various components.
You can view the video directly at the link below.
The videos are also embedded below:
This text will be replaced
March 8th, 2010
Today we received photos of what are supposed to be the final revision iPad midframe.
This iPad frame appears to be similar to the pictures released a month ago, but there are some subtle differences that make you wonder what Apple's plans are.
The most notable feature in this frame is that the webcam holes remain.  The holes appear to be a slightly different style and don't seem to allow one of the currently used iSight modules (such as in a Unibody Macbook) to fit snug into the hole.  It, however, seems strange that multiple versions of this midboard frame have the webcam holes when no currently known model includes a webcam.  Generally manufacturing companies that have two different revisions of a product will try to save money on production by using interchangeable parts, but from the looks of this so far, all of these prerelease parts are being made to house hardware that is not available on any model. This could be attributed to either a late minute announcement that will have people pulling out their wallets, or it was a last minute design pull. (The fact that the camera holes made it from supposed prototype to final revision could possibly support some type of late announcement theory….though we seriously doubt it.)
One major difference between the two is the large rectangular hole at the bottom of the iPad near the home button.  The previously released pictures show large holes on both the top and bottom, but these new pictures only show one large rectangular hole.  The holes appear to be a way to route some internal cables or securing some internal component.  If you compare these photos with the official iPad gallery, it appears the bottom may be used for housing the speaker.
The bottom of the iPad appears to have a much more recognizable hole for the home button.
Click on any picture to see a higher res photo.
March 4th, 2010
As the world waited to see what Apple had for them next, many rumors were buzzing around the office and internet. From an iPhone for Verizon Wireless to an iPod Touch with a built in camera and GPS, we couldn't wait to see what Apple had in store!
As January drew ever closer, an internet leak of an "Apple tablet" soon grabbed everyone's attention. There was talk of the new device running the Snow Leopard OS, or possibly an OS designed specifically for the tablet itself. It was even rumored that the 'tablet' would include a GPS, a 5 megapixel Camera, and paint brush attachments for artists who love to paint and sketch. Needless to say, we became very excited here in the office and were on the edge of our seats with each and every new piece of gossip and speculation we came across.
On that exciting day in January, we were keeping up with the rest of the world- reading blogs, downloading Pictures, listening to Podcasts about the iPad, and anything else we could get our hands on. So my question to you is, "Did the iPad fall short of everyone's expectations? Did the iPad fail before it was even launched? Or could it be that the iPad isn't about what you get "right out of the box" at all? Is there more yet to come?"
# 1 – The iPad does not have a built in camera
It's true, we were a little shocked at the fact that the iPad did not have a built in camera. However, there are rumors of an attachment soon to be available with a camera for all you shutter-happy people out there (you know who you are), and for the business savvy people who on occasion need to make a video conference call to Japan at two o' clock in the morning.
This has not been confirmed yet. It's only a rumor at the moment, but come on. We should not have to pay for it as an addition. If Apple can put a camera into the iPod Nano, I'm quite sure they can put one into the iPad. Apparently, Apple sets the expectations for its users (not the other way around).
# 2 – The iPad is very sexy
Yes we said it; it is gorgeous on the outside. Everything about it says, "Look at me I have an iPad and I'm awesome." The sleek streamline design is eye catching! It weighs in at a total of 1.5 Pounds (most of us eat that much food in one sitting), and is 0.5 inches thin. Its design is amazingly simple yet astounding! One can only help but ask, "Did Apple cut performance and focus too much on the cool factor?" I hope not. We will all find out next month.
With only the 20 pin "iPod" USB connector slot and head phone port, the iPad isn't full of holes. Will the lack of USB and Fire wire support be enough to keep a select few from getting the iPad? Next we have the gorgeous 10" display (9.7-inch LED-backlit glossy widescreen Multi-Touch display with IPS technology, 1024-by-768-pixel resolution at 132 pixels per inch for you tech spec buffs). This is a real selling point to those who want crystal clear photos. The iPad also supports H.264 video (up to 720p, 30 frames per second) for the movie lover in your family. Let's just hope it sounds as good as it looks… which brings me to our next subtopic.
#3 – No Multitasking
There is no multitasking on the iPad (or iPhone for that matter).The iPad does not run the full blown Mac OS X, so weather you're checking your Facebook page, checking your exchange portfolio, or playing dress up with Barbie; you have to do it within that respective app. Don't get us wrong, the Apps are very nice and "just work." That's the beauty of Apple- it does just work, but it works the way Apple wants it to and not necessarily the way we would like it to.
Nevertheless, the way the App store is laid out along with the performance of the apps themselves are very nice and keep the machine running nice and clean. We have nothing against the App store, but we would love to see multitasking. That way you can run Pandora, AND shoot the bad guys in that 1st person shooter game you just downloaded while you were in a meeting. (We know…)
One definite plus is that The Apps will fit the screen without one pixel out of place. This is great for gamers and for the newspaper junky who likes his daily ePaper. (We are glad to see this).
#4 – Flash is dead to Apple
A world without flash… this is what Apple wants (hey, they were right about the floppy drive.) What about our Hulu, CNN, and every other site on the internet that uses flash? A lot of them do. Oh, and what would life be without Farmville? There would most certainly be bloodshed over this! Who of you has not played a flash game in the last 30 minutes? We thought so.
Steve Jobs was pretty blunt when he said, "They have all this potential to do interesting things but they just refuse to do it. They don't do anything with the approaches that Apple is taking, like Carbon. Apple does not support Flash because it is so buggy. Whenever a Mac crashes more often than not it's because of Flash. No one will be using Flash, he says. The world is moving to HTML5."
So if you want to use the iPad for anything that requires flash, you may be out of luck on that. However, you have to see Apple's side of reasoning. If they let us have flash, then they take a cut in sales in the App store and iTunes store. Why watch it or play it for free when you can download it for .99 cents?
Then again, if you're running an App that is designed for the Apple in the first place, Mr. Jobs is correct in saying that it is a lot less likely to crash. We will not lie- we wish the iPad had a flash player, but we can also sympathize with Apple on the matter.
#5 The Apple A4 Processor
One of the first things you may notice about the A4 is that it's not Intel. This is a big step backward for Apple. However, the iPad isn't running a full OS so the 1GHz speed should be blazing. The iPhone itself is only running 600MHz (hard to believe that was the speed of some iBooks back in the day) and it handles apps at awesome speeds. We should definitely see a world of difference between the two.
It is still unclear weather or not the A4 is dual core. It probably is not since it doesn't seem to need it at the present. This is especially true because of the fact that the iPad does not support multitasking. The chip also supports the GPU so there isn't a separate video card, but it can still handle High Rez 720p video. This chip is a real breakthrough, and we think this will change a few things in the near future. One other notable feature about the chip is the promise of ten hour battery life. That is some promise for Apple to make (but an awesome one). We really hope Apple isn't kidding with this.
On the flipside, Apple could have easily made this machine run a full OS and used the same chip that sits inside the Macbook Air. I have personally taken apart a Macbook Air. The logic board and the processor are tiny. This thing could easily fit inside the iPad. Also, the Macbook Air comes with a very nice NVIDIA graphics card. This would have been nice to see. Who knows, there may be an iPad pro right around the corner.
#6 SD Card slot…not!
Yes, Apple tends to stay away from the SD card slot. They have a few models with them, but it isn't standard. Steve Jobs said in the Keynote Address that the iPad is far better than a netbook, more intimate than a computer, and way better than an iPhone. But let's look at, well, a netbook.
1. Most netbooks have an SD card slot.
2. Flash…beautiful flash
3. Keyboard, Camera, USB.
4. Some have HD out (Who watches HD anyway?)
5. Multitasking (Remember this is supposedly far better than a netbook)
Now let's look at the pros of this iPad.
1. No viruses (Enough said)
2. Everything is guaranteed to work
3. It's all multi touch, 10 hour battery life, it looks awesome
4. 500,000 Apps , it's thin & light
5. Not having to deal with Windows!
With that in mind, there are many pros for both. It's up to you to decide which is the best for you. All we can do is present the information and let you decide.
#7 Bill Gates, Microsoft, and the iPad
As many of you know, Bill Gates (the former CEO of Microsoft) commented on the iPad. He wasn't as blown away by the device as he was with the iPhone. He still believes that the netbook is the device of the future:
"You know, I'm a big believer in touch and digital reading, but I still think that some mixture of voice, the pen, and a real keyboard – in other words, a netbook – will be mainstream on that. So, it's not like I sit there and feel the same way I did with the iPhone where I say, 'Oh my God, Microsoft didn't aim high enough.' It's a nice reader, but there's nothing on the iPad I look at and say, 'Oh, I wish Microsoft had done it."
Of course Microsoft is going to stand by the netbook; they only run Windows software (Duh Bill). So, why is Bill not as scared of the iPad as he was the iPhone? It's simple. The iPhone at that time was completely different in every way. It was a complete multi touch device (with no stylus). It was fast, efficient, and it changed the way that phones were made. The same goes for the iPod. It was different and it was good! It just worked. The iPad just didn't blow anyone away. It had nothing we have not seen before. As we said at the beginning of this blog, 'the iPad may not be about what you get straight out of the box, but about what is yet to come.' If I were Bill I would be a little scared.
#8 – The price and the different models
True, $499 is not a bad price, but with that you only get 16GB which is not expandable.  Another drawback is that this price is only for Wi-Fi. If you want 3G it bumps the price up to $629. Yeah, that's what we said too (we just can't put that in the blog). We think the 3G option should have been in the Wi-Fi only price.
As the GB's go up, so does the price. You pay $829 for the top of the line 64GB model. Will 64GB be enough for the movie lover in your family? We would have loved to see a larger hard drive in this iPad, especially since it will support 720p (but hey, what can you do?)
#9 – The Contract that wasn't
We just wanted to mention that AT&T still has all the Apple business they can handle. WE WANT TO SEE OTHER WIRELESS NETWORKS!!! There we said it; we can't take it back now. Some of us Verizon, Sprint, and T-Mobile users need a turn to play. "Hey AT&T quit hogging all the fun!" There is some talk (or so we've heard) that Verizon may get the fourth iPhone that comes out sometime this year. That, however, is completely hear-say; and we will have no part in rumors (yeah right). Let's hope that this is true, and that Apple will soon wise up and see that AT&T isn't all that great.
#10 – What is yet to come?
The world doesn't really know. Only Apple and the developers of the iPad itself know what the future holds for the device. Maybe the SDK will fill us with awe as they develop more and more Apps that enrich our lives.
Maybe Steve will give in to the word's demand for flash (He won't), and maybe there will be one more surprise in store for the first people to own an iPad. At $499 base price we think it is a nifty little gadget (which may be worth purchasing if you love the iPhone and iPod touch, or refuse to get one of those awful netbooks).
Hey, the iPhone has gotten better over the years. We are sure the iPad will as well. We can only wish that for once Apple would listen to the customer, but therein lies the beauty of Apple. Maybe Apple knows exactly what they are doing. Perhaps we just need to figure out for ourselves what that is as time passes and more is revealed to us about the iPad.
The verdict
If you want an iPad, by all means, get one! You will love it, and no one can tell you otherwise (especially if you are a hardcore Apple only, 'Microsoft must die, I hate Bill Gates, and Steve Jobs is God' kind of person). With that said, if you are a Windows-only person and want to switch to Mac, we would not recommend getting this as your first Apple product. Instead, go with a Mac Mini or a Polycarbonate Macbook. These have the full blown Mac OS X Snow Leopard; and you can experience the virus free, amazing, and super easy to use operating system of champions.
If you want a powerhouse media machine, again, this isn't for you. If you want a machine that you can use to watch movies, view pictures, play games, and keep your life organized… then yes, this machine is for you…for now.
Who knows what Apple has in store for this machine? Apple workers report that 'this is the happiest we have seen Steve since the 1st iMac CRT's came out.' We really hope that he and Apple have big plans for the iPad. There is still the promise of flash, multitasking, a camera, USB support, HD out, GPS, and a keyboard that doesn't cost $30 as an add on. We'll just have to wait and see if Apple will give in, or simply continue to excel in telling us what we want. We are hoping for an iPad Pro, and we are almost sure it will come.
Until then, we will have to wait and see what awesome apps show up for this "Magical" device, because that is all it will do… for now.