Archive for January, 2010
January 29th, 2010
Introducing Macbook and Macbook Pro Logic Board Repair Service
Today we are introducing component level repair services for the Macbook and Macbook Pro. With this service, we'll repair your defective Macbook or Macbook Pro logic board without the need for you to purchase a new one. The pricing for this service is substantially less than the cost of a new board. Below are some of the highlights of the program and pricing.
One Year Warranty
We'll ship you a box
7- 12 Business Day Turnaround
No repair cost if we can't fix your board
The link below will take you to the main service page and allow you to schedule your logic board repair:
Macbook and Macbook Pro Logic Board Repair Service
Logic Board Repair Only
With this option, you send just your logic board in for repair, not your complete unit.
---
| | |
| --- | --- |
| 13.3″ Macbook Logic Board Repair | $299.95 |
| 15″ Macbook Pro Logic Board Repair | $399.95 |
| 17″ Macbook Pro Logic Board Repair | $399.95 |
Complete Unit Repair
With this option, you send in your complete unit for logic board repair.
---
| | |
| --- | --- |
| 13.3″ Macbook Logic Board Repair | $394.95 |
| 15″ Macbook Pro Logic Board Repair | $494.95 |
| 17″ Macbook Pro Logic Board Repair | 494.95 |
January 28th, 2010
In the days leading up to the announcement of the iPad, many of us here thought it might spell the end for Axiotron and their Modbook. (For those who are out of the loop, the Modbook is the original Tablet Mac, not manufactured by Apple but based on the Macbook system.)
In fact, in anticipation of the event, we sold out of our last prebuilt Modbook system on the 26th with no intentions of building more units.
However, about 30 minutes into the Apple announcement, we noticed something very interesting. The interest and demand for the Modbook hit all time highs. Modbook related pageviews jumped over 300% from the previous day.
One metric we use to track demand is signups for back in stock notifications once a product is out of stock. When we take the average of signups for all previous days when our Complete Modbook product was out of stock, and compare it to signups on the 27th, there is a 333% increase. We're only about halfway through the 28th now, but we are on track to have at or greater demand today than yesterday.
Demand for Modservice, the service in which we convert your Macbook unit into a Modbook, is also up substantially as is call volume related to Modbook units and Modservice.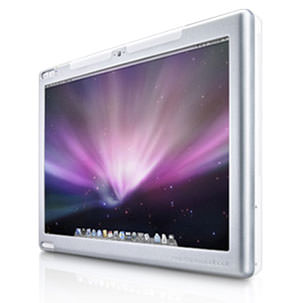 So what's the deal? Wasn't the "Jesus Tablet" supposed to be the end all device? It was supposed to be…but it isn't, and the Modbook picks up where the iPad left off.
Here are just a few things the Modbook has that the iPad doesn't.
1.) Full Blown OSX, not a watered down iPhone OS.
2.) iSight Camera for video conferencing
3.) Video Out capability
4.) USB Ports
5.) Optical Drive (For DVD Playback)
6.) Handwriting Recognition
7.) Flash
8.) Larger Storage
Yeah, the iPad will be a cool techy toy, but in terms of functionality, it appears to be lacking. You know the guys at Axiotron are breathing a sigh of relief on this one. What once looked like doom and gloom for the company now looks to be a cash cow that they'll be able to milk at least until the 2nd gen iPad comes out.
For more info on your options on getting a Modbook, you can click the link below:
Modbook and Modservice Info
January 28th, 2010
When the iPad was released on April 3rd, we were there. We were the first company to teardown the iPad and begin offering replacement parts and repair service.
Our iPad Parts store has all of the internal components needed for self repair. We'll be carrying all of the parts for the Wi-Fi and 3G models. ( Model #s A1219 and A1337)
We've also got a high-definition iPad Repair Guide Service Manual video up on our Mac Repair Guide site.
For those not up to self repair, we have a Send-In service for iPad Service. The cost for the service is $30 labor + part cost.

Below are some pictures of our iPad Repair done on April 3rd.
== Original Post ==
With the new iPad just being announced, we're already getting a lot of questions about whether or not we'll repair them and carry iPad parts when they come out.
No one yet knows the complexities of this device or how user serviceable it will be. That said, from first glance the device appears to be a blown up iPod Touch. If that's the case, we'd assume the same components will be replaceable for the iPad as for the iPod Touch, and we assume that in the minimum it will have an LCD Display and a digitizer that would be end user replaceable.
So to answer the question, most likely we will offer iPad parts and iPad repair, though it's really too early to tell any specifics.
We'll find out for sure in 59 days when we do an iPad take apart repair guide.
January 22nd, 2010

We're in the process of filling in the gaps of some of the manuals we don't have, and so we're adding two new iPod Repair manuals to the video manual mix today. The two new manuals are for the iPod 3rd Generation, and the Original iPod Nano.
Both videos are now live on our Mac Repair Guide site.
This video guides show you how to completely disassemble the iPod models to replace the various components such as the LCD Display, headphone board, battery, etc…
You can view the video directly at the links below.
The videos are also embedded below:
This text will be replaced
This text will be replaced
January 13th, 2010
Our Polycarbonate Macbook (A1342) take apart video is now live on our Mac Repair Guide site.
This video guide shows you how to completely disassemble the new Polycarbonate Macbooks to replace components such as the LCD, logic board, etc.
You can view the video directly at the link below.
(A1342) Polycarbonate Macbook Repair Guide
The video is also embedded below:
This text will be replaced