Archive for April, 2009
April 30th, 2009
A few product announcements and price drops to mention today.
#1 – Macbook Air Bottom Cases – Pulled
The first new product are pulled Macbook Air bottom cases. These cases are in like new condition for the fraction of the cost of a new one. These cases are $39.95 and are available from the link below:
Macbook Air Bottom Case Replacement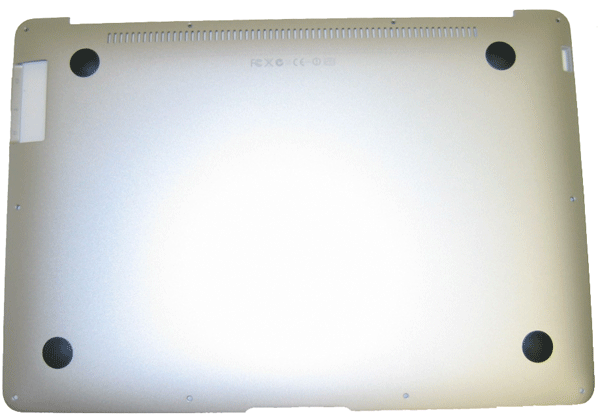 #2 – 60 Watt Magsafe Adapter for Macbook – Used
The next item added today were used 60W Magsafe adapters for the Macbook. These function the same as the new ones, and still carry the one year warranty. They have scratches and normal wear but come at a significantly reduced price from a new one at $39.95. Click the link below to go to the product.
Used 60W Apple Magsafe Adapter Replacement
#3 – Macbook Pro 15″ Penryn Magsafe Board – 076-1318
This is the magsafe board for units with model # A1260. This is the board the 85W Magsafe adapter plugs into and provides power to the unit. The board is $89.95 and is available from the link below. 
Macbook Pro 15″ Penryn Magsafe Board 076-1318
Price Drops
We had some price drops today on 15″ Powerbook Logic Boards. The boards are originally $399, and we've cut them in half to $199. We acquired a large number of these boards, so this is a temporary drop until these are sold. 
The 1.5 GHZ board for model A1106 is available from the link below:
Apple Powerbook G4 1.5GHZ Logic Board for A1106
The 1.5GHZ board for model A1095 is available from the link below:
Apple Powerbook G4 1.5GHZ Logic Board for A1095
We also had a price drop in 15″ Powerbook LCD screens.
Low Res screens have dropped from $299 to $249. Hi-res screens have dropped from $349 to $299. Both screens are available from the link below:
Powerbook G4 15″ Display LCD Screen Replacement
April 28th, 2009
We've just released the 12″ iBook G4 Repair Video. This video will show you how to completely disassemble your iBook G4 12″ unit. The video can be found at the link below:
iBook G4 Repair Video Disassembly Guide
We should be wrapping up a few more video manuals this week, so stay tuned for more updates.
April 22nd, 2009
So today we've got another new product to unveil. We are now stocking the replacement Superdrives for the 2009 Unibody Macbook and Macbook Pro, model UJ-868. The items are brand new and have a price of $149.95.
These drives are not compatible with previous model Macbook and Macbook Pros. The reason for this is that this drive uses a SATA interface, and previous drives used a PATA interface.
The drives are available by clicking here (Macbook Pro and Macbook Unibody Superdrive).
The drive specs are as follows:
Specifications:
* 5X Speed DVD-RAM Writing
* 8X Speed DVD±R Writing
* 4X Speed DVD±RW Writing
* 4X Speed ±R (DL) Dual layer Writing
* 24X Speed CD-R Writing
* 24X Speed CD-RW Writing
* 8X Speed DVD-ROM Reading
* 24X Speed CD-ROM Reading
Pictures of the drive are below:
April 20th, 2009
We have redone the live search as seen on our last site with a little more flare.  Just start searching for a part and it will try to figure out what you are wanting to buy.  If it doesn't find what you are looking for just hit enter to do a full blown search through our entire site.
If you have any problems or recommendations, don't hesitate to shoot us a tweet with any issues.  Keep in mind that Firefox and Safari are preferred browsers for our site.  Internet Explorer users should make sure they are running the latest version for better compatibility.
April 17th, 2009
Today we started carrying refurbished 80GB Macbook Air hard drives. The drives carry our standard one year warranty, and work on the original Macbook Airs. They are in stock and ready for shipping!
Full specs at the link below:
Macbook Air Hard Drive Replacement
Pictures below:
April 16th, 2009
While I still have a lot of new site features to go over, I thought I'd take a break from that to go over a new product we released today.
Add a Second Hard Drive to your Laptop!
Max your internal storage capacity out at 1TB (or 750GB for Powerbooks / iBooks) by replacing your internal optical drive (CD/DVD Drive / Burner) with a DualDrive 500GB hard drive!
If you're the type of person who doesn't use your optical drive much, but needs extra storage capacity on the go, then the Dual Drive 500GB is what you need.
The DualDrive replaces your internal optical drive, and replaces it with a 500GB hard drive. As a result, you will no longer have a CD drive in your unit, so you would need to purchase an external cd drive should you require that functionality.
To max out your hard drive capacity in your machine at 1TB (or 750GB for Powerbooks / iBooks), you would also need to replace your original drive. The Macbook / Macbook Pro can replace the internal drive with a 500GB + the 500GB DualDrive  for a total capacity of 1TB, and the Powerbook / iBook can replace the internal drive with a 250GB + 500GB DualDrive for a max of 750GB.
The DualDrive does not come with mounting hardware or mounting instructions.The drive will use the mounting brackets that your original drive used. Free take apart guides are available from our website. Some machines have multiple brackets, and in some cases multiple brackets will not be required. The drive will sit firmly in place once the machine is completely back together.
This product is available at the link below:
 500 GB Internal Hard Drive for Macbook, Macbook Pro, and Powerbook in Optical Bay
A few product photos….
April 15th, 2009
PowerbookMedic.com is a customer centric company. We try to look at everything we do from policy to design in the viewpoint of the customer. This brings me to the next new feature I'll discuss which is the Repair Status page. We know how important computers are in everyone's everyday life. So, we also know how difficult it is to be without your computer when you need to get it serviced. With that in mind, we've redesigned the Repair Status feature on the site.
When on the Repair Center page, click on the "Check your Repair Status" link in the right hand corner of the leaderboard.
When you click on that, a page like the one below will open up.
At this page, simply type in the email address you used to create the initial repair quote, and the ticket number that was assigned to you to login to the repair status interface.
Once you've logged in, you'll see a screen similar to the one above.
Our new Repair Status system will show you exactly what is going on with your laptop at every stage of the repair process. It will also show you what repair technician is currently working on your machine at each stage of the process.
If you have a question about the status or the repair in general, you can also post a question directly from the Repair Status interface.
This new Repair Status system should help to relieve some of the anxiety of sending your laptop in for repair. It's never easy to be without your unit, but knowing exactly where it is and who is working on it sure does help.
April 13th, 2009
Along the theme of the last post, and the next few posts, today I'll be talking about another one of the new features we've built into the new site.
One of the goals we had with the new site was to make it as simple as possible to find the part you need for your laptop or iPod. To accomplish this, we built several new features into the site. One of those is the part locator on the Home Page.
The part locator feature gives you three different ways to search for what you're looking for. The best part is that, due to our brilliant programmers,  you can do it all without switching pages or browsing through different pages.
The first search box is a general search based on Apple part # or keyword. If you know what you're looking for, this is likely the fastest way to find it. Simply type in what you're looking for, and the results will appear on the right hand side of the leaderboard box.  Click on the product you'd like more information on to go to that product page.
The second box is a search by model #. Type your model # into this box to identify the family name of the machine you need parts for, and then click the associated link on the right hand side to either get more information or to go to the category for that family type.
The third box is a search by category feature. This feature is great if you're just browsing for a part you need. To use this feature, simply select your model and the category you'd like, and you can browse for the parts you need. Then, just click on the product to go to that product page.
These three different ways to search for products make locating the right product not only easy, but fast as well.
April 10th, 2009
Today we unveiled the long awaited new release of our website. We're still working out a few kinks, but overall the transition has gone rather smoothly. So why not spend a few posts talking about some of the new site features.
There are two things we love here at PowerbookMedic, one of course is Apple. The second is cutting edge website design. Almost everything we do is done in house, and when it comes to programmers, we've got some of the best.
One of the features that has been getting the most attention is our new Identify Model feature. To get there, just click on the "Identify Model" link in the navigation bar.
So what's so cool about this new feature?  As you begin to type your model number into the search box, the site narrows down in realtime which model you have. Once the site has enough information to determine the family name of the machine, it highlights it. Hit enter, and a lightbox window opens up with all of the model number information for that family name including model and speed info.
This new feature should make it easier than ever to locate exactly what parts you new for your Apple laptop or iPod.
We'll be fleshing this new feature out in the months to come based on user input and suggestions, but in its initial form it's a pretty great new feature.
On a side note, I'd like to give a special thanks to all our team members and their families. There have been a lot of extra hours and late nights over here, and this new site wouldn't have been possible without you…and an extra special thanks to my wife who has endured a shell of her husband these last few months. Thank you!
Happy Easter!
-Bradley
Owner PowerbookMedic.com, LLC
April 7th, 2009
Throughout the years, we've had quite a few versions of the site. On April 10th we're launching the third major version. With all of your past comments and wishes taken into consideration, we've designed what we feel is the most elegant,  easy to use and functional site yet.
Along with this new revision comes this blog…a place for us to communicate what's going on over here to you.
Let us know your thoughts on the new design. It's your input that has made PowerbookMedic what it is today.