October 6th, 2011

Today we're proud to announce two new repair services for the 2010 Macbook Air Displays.
Macbook Air Display Repair Program – Repair cracked, broken, defective or scratched LCDs on the 2010 Macbook Air
Macbook Air Display Conversion Program – Convert your 2010 Macbook Air display from Glossy to Matte
Details on the programs can be found at the program landing page: Macbook Air Display Repair Program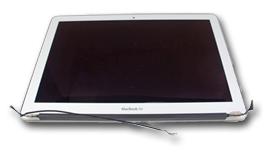 The LCDs for the Macbook Air 2010 and 2011 models have been notoriously difficult to source in any type of quantity. As a result, if you crack, break, or scratch your display on a 2010 or 2011 Macbook Air, you've been left with very few choices in terms of repair. Most repair options can cost close to the value of the machine.
We've been hard at work with a partner company for over a year trying to come up with a solution, and we're finally ready to unveil it.
Starting today, you can send your whole Macbook Air or just the display clamshell to us to replace a cracked, broken, scratched or defective LCD. Pricing is below:
Sending in Display Clamshell Only for LCD Repair
11" Models — $279
13" Models — $329
Sending in Whole unit for LCD Repair
11" — $329
13" — $379
As with all of our products and services, this service is warrantied for 1 year.
In addition to the LCD repair service, we're also announcing an additional service to convert your current Macbook Air LCD from Glossy to Matte.
If your display is not cracked, broken, or otherwise defective and you ONLY WANT a matte to glossy conversion the costs are:
11″ or 13″ Clamshell Only $149
11″ or 13″ Sending in Whole Unit $199
If your display is broken and you only want an LCD repair WITH the Matte conversion:
Sending in Display Clamshell Only for LCD Repair
11" Models — $354
13" Models — $404
Sending in Whole unit
11" Models — $404
13" Models — $454
You can get more information and schedule the service at the link below:
Macbook Air LCD Repair Program
Feel free to comment or email us with any questions about the program at support@powerbookmedic.com
---
Leave a Reply