Archive for June, 2009
June 30th, 2009
Today we added 4GB PC8500 chips to our online store. The chips are pretty expensive at $399.95 due to current constrained supply in the market. However, if you really want to max out the ram in your Unibody, this is the way to go. 
Click the link below to go to the product:
June 25th, 2009
Today we released our key replacements for the Macbook Air  and Macbook Unibody models. If your keys have popped off your keyboard or have begun to fade, you can now replace the keys individually without having to replace an entire keyboard. These keys work for the Macbook Unibody 13″, 15″, and 17″ models as well as the Macbook Air models. 
The product is available at the link below.
Macbook Pro and Macbook Unibody Key Replacements
Image below: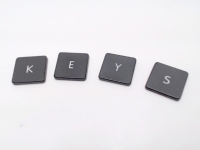 June 18th, 2009

We have added 250GB 7200RPM SATA Macbook/Macbook Pro hard drives to our site.  You can click on the link below for availability and pricing.
Current introductory price is $99.95.