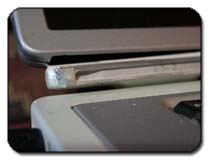 If your Titanium looks like this, this is a broken hinge. If your display is wobbly or it no longer opens and closes correctly, these are symptoms of broken hinges.

We can fix it!
Click Here to go to the Repair Center
All of our products and repairs are backed by our 1 Year Warranty.

Our Titanium hinges are made of TRUE STEEL unlike our competitors. To find out the truth about steel hinges, click here.