The TRUTH about STEEL Hinges
PowerbookMedic is one of the only, if not THE ONLY place to get TRUE steel hinges for your Powerbook Titanium.
Several companies say they offer steel hinges or "stainless steel" hinges, but these claims are largely untrue. To validate other company claims, we purchased hinges from our compeititors. The result of a simple stress test? See the image below: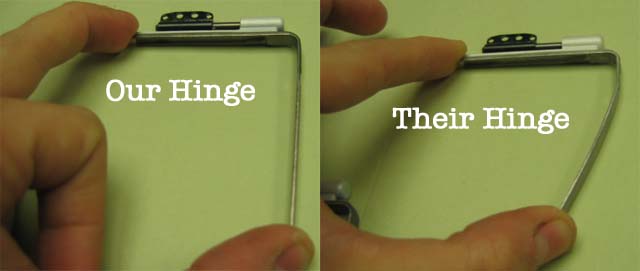 If you do happen to purchase a hinge not from another company, and it bends as in the above photo, then you do not have true steel hinges.
This is why PowerbookMedic stands behind our hinges with a one year warranty. Further, in over 3 years of selling these steel hinges, we have not had a single report of one breaking.
Why Steel?
The flaw with the Titanium Powerbooks hinges is that the original hinges were made of a very light metal, aluminum. Aluminum is extremely malleable, and therefore extremely easily broken, unlike steel hinges.