Archive for 2010
July 6th, 2010
Let me preface this by saying that I love Apple. Never have I ever had so much as a thought about returning an Apple product… that is until I bought an iPhone 4.
Yes, the reception sucks…especially for someone who is left handed. Being that I love Apple, I got a bumper and decided to live with it. Writing that just now sounds stupid though. Why should we have to buy a product to make another new product work? Reception issues aside, the problems with my iPhone 4 run deeper.
This weekend, like many of my fellow Americans on a 4th of July weekend, I went outside. However, when I ventured outside, I noticed a little issue with my iPhone. After just a few minutes in the sun, the digitzer on my iPhone 4 stopped working on the right hand side. This basically makes the phone useless until you step back inside and the phone cools off. Whenever you go back into the sun, the problem repeats itself.
Just a few notes about this situation.
1.) This is my personal phone…the one I waited in line for. I have taken exceptional care of it.
2.) We are in Alabama and the temperature over the last few days has been around 90 degrees. My iPhone 3G had no issues in the sun.
3.) It takes 2-3 minutes for the problem to appear. If I hop into my car, the problem pops up almost instantly.
4.) We have been unable to recreate this issue on 3 other iPhones 4s, so there is a strong possibility this is an isolated incident.
So now I must go back to the store and do something which makes me a little sad in all honesty. I must return my iPhone 4.
July 2nd, 2010

Are you one of the many iPhone 4 owners who are eagerly awaiting the promised iPhone 4 "software based" reception fix? We've got a solution that provides the same results and is available today. By releasing this today rather than in a "few weeks" we are allowing you to solve the problem while still well within your 30 day refund period.
We too were "stunned" that the solution really was this simple!
Step 1

Print off the antenna reception image below. You may notice that we've increased the size of the bars so they are easier to see.

Step 2

Gently coat the back of the image using a glue stick.

Step 3
Place the image on your iPhone 4 above the current reception graphic and wait 2-3 minutes for the glue to dry.
Results
I think you'll all agree that the results speak for themselves. If you notice that you still drop calls or that the internet drops on you, then we recommend you follow Apple's suggestion and return your iPhone 4 for a refund and buy a new one after all these "software" kinks are worked out.
* Yes, this post is sarcasm. Please do not really attempt to glue anything to your screen.
June 29th, 2010
iPhone 4 Parts for self repair are now available for ordering from our online store. Click this link to go to our iPhone 4 Parts category.
A few notes about some of the parts.
1.) The iPhone 4 Display and Digitizer are very difficult to install as separate components. Though difficult, they can still be installed individually which is why we are offering them separately. We'll be carrying complete assemblies (with the Digitizer and Display bonded together) shortly to aid in easier repairs.
2.) The proximity sensor is located on the induction flex cable. We've head scattered reports about possible over sensitivity on the sensor, so this could be a future replacement issue.
The selection of parts will be growing over the next few weeks, so keep checking back for updates. Here's what's available so far:
iPhone 4 Back Case (Black)
iPhone 4 Digitizer (White)
iPhone 4 Dock Connector With Mic
iPhone 4 Frame with Midboard
iPhone 4 Induction Flex Cable
iPhone 4 LCD Retina Display Assembly Panel
Midboard (Only)
Sim Card Tray

June 24th, 2010
Within hours of customers receiving their initial pre-release iPhone 4 shipments, we began to receive reports of reception problems.
The problem occurs when users squeeze at the antenna locations on the iPhone 4, on either side of the casing. Squeezing, effectively shorts out the cell phone antenna and causes the signal to drop off. The issue appears to be a hardware defect, and in our opinion is unlikely to be fixed by any software update released down the road.
This may cause huge problems for Apple in terms of product recalls. One possible solution for Apple would be to give away the iPhone 4 bumper cases. Those cases would likely decrease the pressure on the casing and provide at least a short term solution.
The video below confirms this issue.
In addition to the reception issue, we've heard our customers complaining about sound quality issues and screen blemishes. We've also had one report of the iPhone 4 getting very hot to the touch.
June 22nd, 2010

When you think of modern day cell phones, one in particular always comes to mind. The iPhone changed how people think about mobile devices and has set the bar quite high for its competitors. It has become an icon for modern day smart phone technology and design. With the recent release of the newest edition to the iPhone family, the iPhone 4G, the progress Apple iPhones have made in just a few short years is very apparent.
It all started with the original iPhone, which came out in mid 2007. Other cellphone manufacturers were still far behind Apple, making it stand out amongst the other consumer smart phones. The first thing that seemed to attract attention was the simplistic design. It was everything you'd find in a Mac computer, but in the form of a mobile phone. Apple made the bold choice of forgoing the keyboard altogether and relying on a touchscreen for all of the phone's functions. Luckily, the Apple touchscreen is still one of the best on the market today, unlike others before it which were frustrating to use. The iPhone made it easy for most people to go without a physical keyboard. The new user interface introduced refreshing minimalist style to the world of mobile devices, presenting everything the user needs to access with chiclet-shaped icons on pages that could be flipped through with ease by swiping over the screen. The features on the original iPhone met most expectations and the attractive Apple design added to its appeal. Six million of these iPhones models ended up being sold within the first year.

As other mobile devices began to mimic the first iPhone, Apple came out with the next generation iPhone in July 2008, the 3G. This model's release caused the iPhone to rise significantly in popularity. After the first week, one million units were already sold. Many improvements were made with the 3G, including a faster network speed, increased audio quality, GPS, and MobileMe support. The most exciting improvement Apple made however, was the addition of a downloadable application store. With this feature, users could access a marketplace which allowed them to download a wide variety of games and programs to their device. This feature is currently one of the major selling points of the iPhone and iPod touch and has caught on with other high end smart phones. All of this was offered at half the price of the original iPhone, making it more accessible to the public and therefore more popular. In June of 2009, Apple upped its ante once again with the iPhone 3GS. While the design remained the same, a hearty list of improvements were made with this model's hardware and software. The 2.0 megapixel camera on the 3G was replaced with a 3.0 megapixel with added features like autofocus, macro, and automatic white balance. The processor was upgraded from 412 megahertz to 600. Voice commands and audio recording capabilities were added to the phone as well. The iPhone 3GS quickly became Apple's best selling phone, with one million sold in just the first few days on the market.
The newly released iPhone 4G has to be one of Apple's most anticipated products. Though it was supposedly unveiled earlier than intended thanks to a forgetful product tester, the public's reaction to the phone's release was far from disappointing, and for good reason. The all new iPhone seems to have had some serious work done. No longer donning a rounded-off look, the 4G is completely flat in the back and has thinned out quite a bit. Its plastic trim and buttons have been replaced with a sophisticated stainless steel finish. Though it's quite attractive, The 4G's most impressive improvements have been made internally. Antennas integrated to the stainless steel trim serve to clean up the design of the phone as well as adding stability and strength. The display has been improved significantly, with an astounding resolution of over 300 pixels per inch. A built in gyroscope allows for unbelievably interactive applications which can read the gravitational position of the phone. A much higher quality 5 megapixel camera along with the much anticipated front-facing camera for video chatting have been added. The list of features goes on for miles, making this iPhone model one of the most advanced and desirable releases by Apple to date. Surely, many more innovative ideas by Apple, Inc. will continue to provide the mobile device market with highly sophisticated smart phones.
June 14th, 2010

We've got several refurbished Macbook and iMac deals going on this week.
1.) Apple 24 Inch Intel iMac Desktop 3.06GHZ Core 2 Duo MB398LL/A – $1099.95
We've only got 3 of these gorgeous iMac Units left.
* 24 Inch Display
* 3.06GHZ Core 2 Duo Processor
* Choose Hard Drive Size
* 1GB Ram
* Superdrive (DVD / CD Burner)
* Airport
* Bluetooth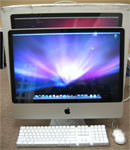 2.) Apple White MacBook 13″ 1.83GHz Core 2 Duo, 1GB, 60GB, Combo Drive MA699LL/A – $594.95
* 1.83 GHZ Core 2 Duo Processor
* 60GB Hard Drive
* 1GB Ram
* Combo Drive
* Airport
* Bluetooth
3.) Axiotron Modbook 13.3″ Tablet Mac – $1599
*1.83GHZ Core 2 Duo White Bases
*60GB Hard Drive
* 1GB Ram
* Combo Drive
* Airport
* Bluetooth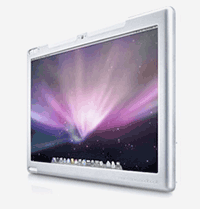 June 10th, 2010
The cost of most data recovery solutions is so expensive that some would say it borders on extortion. The cost to recover your lost data from most data recovery centers ranges from $400- $2700 with a median price of $1900. The costs are not entirely unjustifiable however. These facilities run clean room environments with highly specialized teams and equipment.
However, in our experience, we've found that about 85% of Mac drives don't need to go to clean room facilities to recover data, and therefore the costs are unjustifiable for a large majority of customers. A drive should only go to a clean room facility as a last resort…usually if the drive is physically damaged or will no longer spin.
With that in mind, today we're unveiling a new affordable hard drive recovery service to recover data off of your Mac, iPod, or iPhone. The new service has been designed not to extort, but rather to recover lost or deleted files.
The complete details on the new service can be found at this link: Mac Hard Drive Data Recovery Service


Highlights of our Mac Data Recovery Service
Starting at a Flat $99 fee for up to 8GB of Data
We'll ship you a box with a label and free return shipping
Free 8GB Thumb Drive Included for Recovered Files
7- 10 Business Day Turnaround
No Charge if we can't get the files you want
Data Recovery Pricing
If we can recover the files you specify you are looking for, the cost for up to 8GB of file recovery is a flat $99. (This pricing includes the service, free 3 way Ground shipping, and an 8GB thumb drive.) If we can not recover the specific files you are looking for then we can either return the drive with no files for no charge, or you can have us recover the files we are able to (up to 8GB) for a reduced fee of $74. If you need greater than 8GB of data recovered, the fee is $1 per GB. (This fee is only to cover the cost of the storage device to put the recovered files on. If you have a 2nd drive, you can send that with the hard drive and this $1 per GB fee would be waived.)
Questions on the new service? Feel free to call us at 1-866-726-3342, option 3, or email us at support@powerbookmedic.com
June 8th, 2010
The Mac Media Center dream has come a long way over the years, but one of the major issues with that dream has been connectivity. That is to say a simple means of getting High Definition video output and Dolby Digital audio output to the TV. Since Macs do not currently support HDMI output, the previous solution was to run both audio and video cables to your TV or receiver. That solution isn't for everyone, and is usually a mess.
Today we're adding two new products to our store that address these problems. Both products are HDMI adapters that add HDMI output to the Mac.
The first product is a Mini DisplayPort with USB Audio to HDMI Adapter for $49.95.
The adapter works by integrating the Mini DisplayPort video source and USB audio source of the Mac into an HDMI output. Note that this adapter does not provide digital audio for compressed formats such as DTS digital or Dolby Digital.
The second product is a Mini DisplayPort with Toslink Audio to HDMI Adapter for $59.95.
This adapter works by integrating the Mini DisplayPort video source and digital audio source of the Mac into an HDMI output. This adapter supports compressed formats such as DTS digital or Dolby Digital.
The adapters are currently compatible with the following Mac models:
iMac (Late 2009)
iMac (Early 2009)
Mac mini (Late 2009)
Mac mini (Early 2009)
MacBook Air (Mid 2009)
MacBook Air (Late 2008)
MacBook Pro (13-inch, Mid 2009)
MacBook Pro (15-inch, Mid 2009)
MacBook Pro (17-inch, Mid 2009)
MacBook Pro (17-inch, Early 2009)
MacBook Pro (15-inch, Late 2008)
MacBook (13-inch, Late 2009)
MacBook (13-inch, Aluminum, Late 2008)
June 3rd, 2010

Today we got in a small shipment of 24″ 3.06GHZ Refurbished iMacs. These are priced to move at $1149.95. The units have 1GB of ram and either a 500GB, 320GB, or 160GB hard drive. Only a few of each model are available, and they'll likely move pretty quickly.
The units come with our standard one year warranty. They also qualify for free ground shipping.
The iMacs are available at the link below:
Apple 24 Inch Intel iMac Desktop 3.06GHZ Core 2 Duo MB398LL/A


June 2nd, 2010
We've just gotten some new photos of some of the iPhone 4G parts. Specifically, these are photos of the back cover, glass digitizer, and midboard.
Note: The quality of these pictures is not great. We do not have these parts in our hands, and these photos were sent to us.
The digitizer resembles the 3G and 3Gs with the exception of a camera hole next to the top speaker. The back case doesn't resemble anything we've seen so far. The photos do confirm these will likely be available in white.
One other note is that the model # of the device in these pictures is XXXXX. Usually that indicates a prototype model. Usually you don't see prototype pictures so close to a model release, which makes us wonder if the iPhone 4G really will be released at WWDC.