Description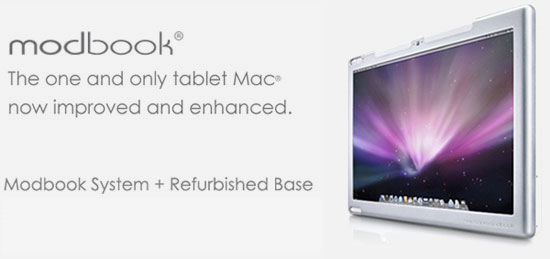 LAST UNIT AVAILABLE! Refurbished, pre-built system at 20% off original price. This unit has light scratches on the LCD that do not affect performance. The bottom case has scuffs and scratches as you would expect in a used machine. The machine is in perfect working order and comes with our standard 1 year warranty.
Modbook System Features:


Aircraft grade magnesium alloy for all terrain use

AnyView(tm) 13.3" Wide Screen

Write and Draw directly to the Screen

WACOM Penabled Digitizer

512 Levels of Pressure Sensitivity

Inkwell Handwriting Recognition

ForceGlass Screen & Camera Cover

Axiotron Digitizer Pen Included

Axiotron Modbook system software

Autodesk SketchBook Express 2009

1 Year Limited Hardware Warranty


Refurbished Base Features


Several Processor options available

White or Black in Color (Choose color with processor speed)

OSX Snow Leopard

Intel GMA 950 with 64MB of DDR2 SDRAM

1GB SDRAM (Memory)

80GB 5400RPM SATA Hard Drive

Built-in 10/100/1000BASE-T (Gigabit) Ethernet

Built-in AirPort Extreme Wi-Fi wireless networking

Built-in Bluetooth 2.0 + (EDR)

Built-in iSight camera

60W MagSafe power adapter

55-watt-hour lithium-polymer battery

More Information
PowerbookMedic.com, LLC is an authorized Axiotron Modbook Service Provider. The Modbook Service in essence takes a Macbook and converts it into a Modbook Tablet system. The Modbook for sale is a refurbished unit. As the unit is refurbished, there are light scratches on the unit, battery, and or power adapter.
Shipping Times:
This unit is prebuilt and ready for shipping. It will ship the same business day if placed before 2:00CST. Otherwise it will ship the next business day.
Billing & Shipping Addresses & International Customers
The billing & shipping address for your Modbook order must be the same, and must match your credit card information. We will not ship Modbook orders to addresses other than the verified credit card address. Orders placed with billing and shipping information that is different and does not match the credit card will be AUTOMATICALLY CANCELED.
We currently do not offer International shipping on Modbooks.
Product Compatibility
Submit your device's serial number or model number to check for compatibility using our built-in system. These devices will be saved for future visits as well.
Still need help?


Give us a call at 1-866-726-3342 or use our live support.

Self-Install Guides and Videos
We have a large selection of free take apart and installation guides on our repair guide page:
Mac Repair Guides .


Need this product Installed?
Click Here to visit our send-in Mac Service center, or call us at 1-866-726-3342, and ask us to do it for you!
We can install any item on our site for less than anyone else, guaranteed! We'll even ship you a box to send your unit in.
---